The Lightest Rolex Daytona in Carbon by DiW is Finally Here
August 09, 2019
The iconic Rolex Daytona was created in 1963 and was designed especially for professional racing drivers. It took decades, but after more than 50 years in the history of the model, the Rolex Daytona was crafted in a full forged carbon case, becoming the lightest Daytona ever created.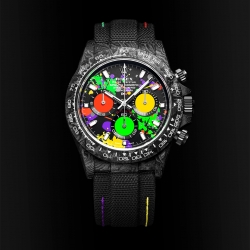 Bruges, Belgium, August 09, 2019 --(
PR.com
)-- The Daytona chronograph has become the hallmark of the world-famous watch manufacture, Rolex. For half a century of history, this watch was produced in versions of steel, gold and platinum. As most watch "connoisseurs" know, the demand for this model has always exceeded the supply, due to the limited amount of pieces being produced. And now, the iconic Daytona got itself a new essence, not only becoming lighter, but more durable as well, thanks to the famous bespoke house Designa Individual.
The case of this custom Rolex Daytona is made out of forged carbon. Carbon fiber is an extremely light but strong material that is very popular in the sales of racing yachts, aerospace, military, and motorsports. Since approximately a decade ago, you can encounter it being used in watchmaking, as companies utilize it to create the most durable and lightest watches on existence.
The incredible effort put by the team of professionals at DiW made it possible to craft a full carbon composite case for the iconic watch. While the watch keeps the original Rolex identity, it was transformed into a non-conservative, modern and bold timepiece. The watch was specially redesigned for those who want something special and unique and will undoubtedly bring its holder into a realm of artistic impressions.
Not only the new Daytona in carbon looks even more sporty than it was meant to be, but it is extremely luxurious as well. The development and production of carbon elements involve a lot of research and high manufacturing expenses. The bespoke house DiW Manufacture is able to fully manufacture in-house the carbon case, dial and bezel. The technologies applied not only improve the mechanical properties of the composite materials in the carbon fiber, but also are very complicated and require special machinery and specialists.
This Rolex Daytona in carbon composite is presented in different models. Each model has its own unique design and are also available in different colors: black, blue, white, gray, and also in a more limited version called "The Motley" which includes an artistic multi-colored dial and it is limited to only 5 pieces in the world. The retail price of the Rolex Daytona Motley is 43990$.
Designa Individual Watches (DiW) is not a representative or affiliate of any manufacturer of Rolex watches or Apple electronic devices, nor does it own or own intellectual property rights belonging to any brand.*